Today, with the average funeral cost nearing $8,300 for a traditional burial, the death of a loved one is a huge financial burden. This means finding and choosing the correct funeral home is very important.  Since many people are often distraught and emotionally drained when a loved on passes, consumers don't have the time or energy  to spend copious hours comparing funeral homes and services.  Luckily, there is a site that can aid you in finding the right funeral home quickly and easily online.
Parting.com helps you easily compare funeral homes online for free.  This is the most comprehensive resource available for comparing prices, viewing photographs, and reading reviews of all the funeral homes in the United States.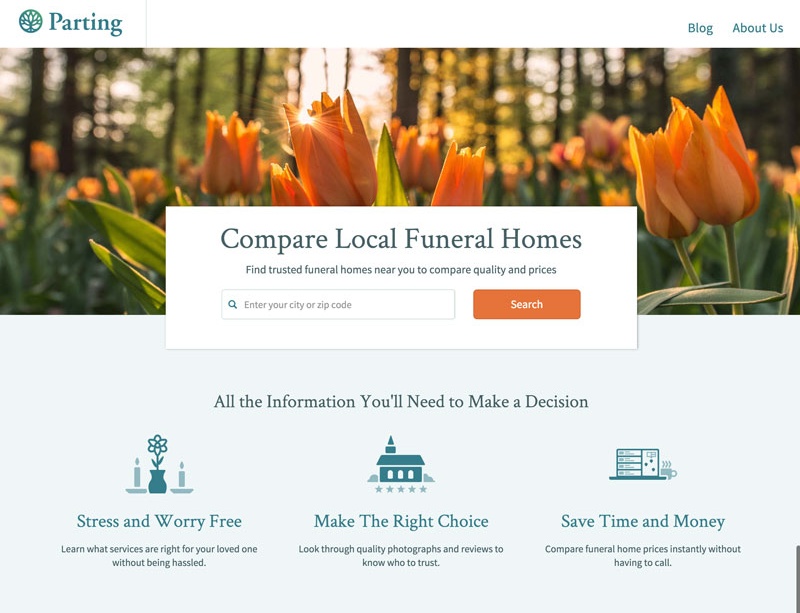 Funerals are often as unique as the people whose life they are celebrating, but Parting has been able to give consumers the ability to look at relative prices of funeral homes available in the area.  This is the transparency we should expect to see in every business, and this is a great start for the funeral industry.
Company Information
Parting was started by 3 guys who have no experience in the funeral industry.  Now that might seem a little strange, but it actually makes a lot of sense.  The funeral industry has been functioning the same way for years.  There hasn't been an overhaul or an attempt to adapt to the internet for a long time, which means that there has been plenty of time for the industry to adapt.  Maybe it takes a few people from outside the industry to give it a fresh set of eyes to see how they can once again provide for their customers in the best way they can.
If you are looking for funeral services, Parting.com is a great place to start.
See what a funeral costs in these popular cities:
Atlanta | Austin | Boston | Chicago | Dallas | Denver | Detroit | Honolulu | Houston | Los Angeles | Miami | Minneapolis | New York | Philadelphia | Portland | Sacramento | San Diego | San Francisco | San Jose | Seattle | Washington, DC