Written By Megan E. Will, Esq.
Although the majority of our focus is to assist families in the funeral and burial process, and to connect families with resources available in their time of need, more and more, families are requesting help in providing care for their ill loved one, long before funeral considerations are made. This especially rings true with "Sandwich Generation" care providers. "Sandwich Generation" is the name given to the middle-aged men and women who are sandwiched between providing care for their minor children and providing care for their aging and ailing parents. See, Kim Parker, "The Sandwich Generation: Rising Financial Burdens for Middle-Aged Americans" Pew Research: Social and Demographic Trends, January 30, 2013. These caretakers often find themselves in a maze of questions regarding nursing homes, retirement communities, hospice care, and insurance coverages. The hope of this article is to lessen the confusion and provide the Sandwich Generation, and others, with answers to some of these questions. Parting strives to be a resource for families with a variety of topics and hopes to ease the anxiety surrounding end-of-life issues.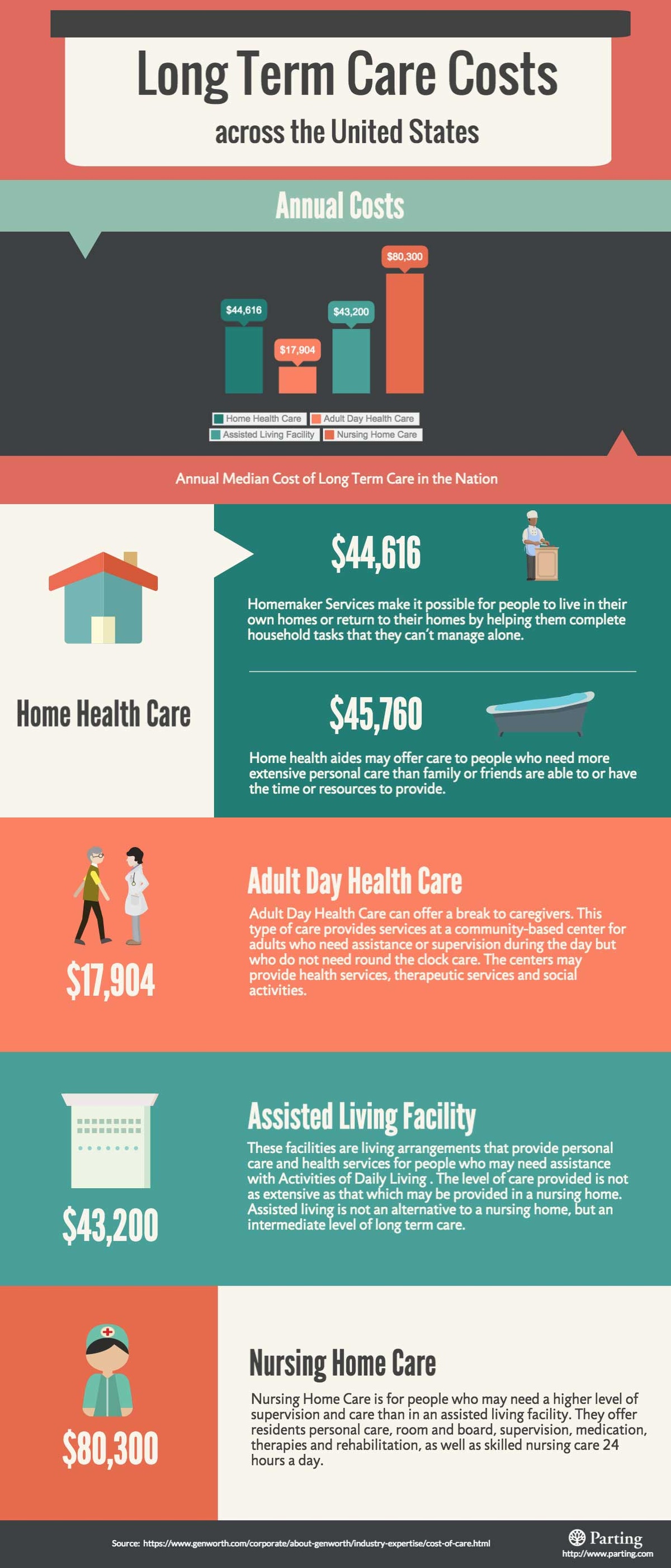 What is Long-Term Care Insurance?
At its core, long-term care insurance is a way for senior citizens, or families, to pay for nursing home, assisted living, and retirement community care. The industry is relatively new and still developing, but has gained traction in recent years. See, Laura Santhanam, "Navigating the Complexity of a Long Term Care Insurance Policy" PBS Newshour, January 9, 2015. This privately-purchased insurance lessens the financial burden of paying for care when a loved one is unable to live at home any longer. With the annual cost of nursing home and assisted living care averaging between $40,000 and $80,000 depending on the level of care required, the expense of long-term care can be debilitating. See, Genworth 2015 Cost of Care Survey.
Many families find themselves dipping into personal savings, retirement and annuity savings unintended for long-term care costs, and incurring personal debt in order to pay for a loved one's care. While many senior citizens have utilized Medicare services to assist with health care costs, Medicare does not cover long-term care arrangements. Many senior citizens will need to apply for Medicaid or privately fund their long-term care accommodations. This is where long-term care insurance strives to fill in the coverage gap.

Who Should Obtain Long-Term Care Insurance?
It seems axiomatic that anyone who cannot afford the $40,000 to $80,000 (and rising!)
annual costs of care should purchase long-term care insurance. However, the complexity of long-term care insurance paints a different picture. Most of these insurance plans have a series of requirements that the policyholder must meet before the insurance begins to cover the costs. For example, a policyholder might have to experience "activities of daily life impairments" where he or she needs assistance bathing, brushing their teeth, or using the restroom, before the benefits of the policy kick in. In that instance, certainly any individual experiencing early-onset dementia or Alzheimer's should consider purchasing a policy.
Similarly, an individual who perhaps does not need to move into a facility full-time, but rather would appreciate some more supervision within her home, should examine long-term care insurance and whether its benefits would aid in covering daily nursing costs. Annually, daily home health care is averaging $45,000, and again, unless the family is able to privately fund these costs, a long-term care insurance policy may be able to reimburse the family for all or a portion of that $45,000. See, Genworth 2015 Cost of Care Survey. 
Families that are able to privately pay for a few months of long-term care should consider long-term care to pick up where their private finances leave off. Many families are finding themselves able to pay for two or three months' worth of care, but little beyond that. With Medicare paying for none of it and Medicaid demanding income requirements before an insured is approved, long-term care insurance can fill these gaps. 
Perhaps most importantly, any senior citizen experiencing any sort of terminal illness, or diagnosis with a "fair to poor" outlook should discuss long-term care with his or her loved ones. Consider Verna's story. Verna was diagnosed with early-onset dementia after a stroke. For a while, Verna was safe to live at home and required minimal supervision. As her dementia progressed, Verna's self-care regressed to the point that she required nursing home care. When Verna entered the nursing home, she was 85 years old. Despite her diagnosis, her doctor considered her to be in decent health and projected her to live for at least another ten years. Ten years of $45,000 annual nursing home costs could have easily depleted her life savings and any retirement accounts she had left. Verna was grateful that her children elected to purchase long-term care insurance immediately after receiving her diagnosis, as it greatly eased the financial burden of paying for ten years of nursing home care.
Verna's example serves to emphasize the importance of making long-term care decisions a family discussion, both immediately after a diagnosis and while her body and mind are still relatively healthy. While Verna may have initially been well enough to make the decision to purchase long-term care insurance, had she avoided the topic altogether, her children and family would be left with the far-reaching financial consequences of ten years of long-term care. Her family would have been left with the decision to move her to a different nursing home, or step down to a different level of care, depending on the resources available to the family.
How Do I Obtain Long-Term Care Insurance for My Loved One?
Many local senior centers have information of applying for long-term care insurance.  Additionally, any member of AARP can easily find resources and compare costs on their website or by calling 1-888-OUR-AARP. Often, military veterans can utilize the Department of Veterans Affairs hospitals and communities to determine what types of care are already covered under VA benefits and what additional policies should be purchased. Many states also have government-assisted programs that may be able to provide additional resources on long-term care insurance. Again, a good place to start would be an Area Agency on Aging or local senior center to determine if the community has a liaison or a list of resources available to the family.
Applying for long-term care insurance is similar to applying for any insurance policy. Be prepared to answer standard questions about contact information and in-case-of-emergency contacts, as well as financial questions, health-related questions, and questions of personal preference. For example, some insurance policies may not cover completely private rooms in the nursing home setting, but other policies might. By asking the broker what specific services are covered, a family can ensure their loved one's preferences are taken into consideration.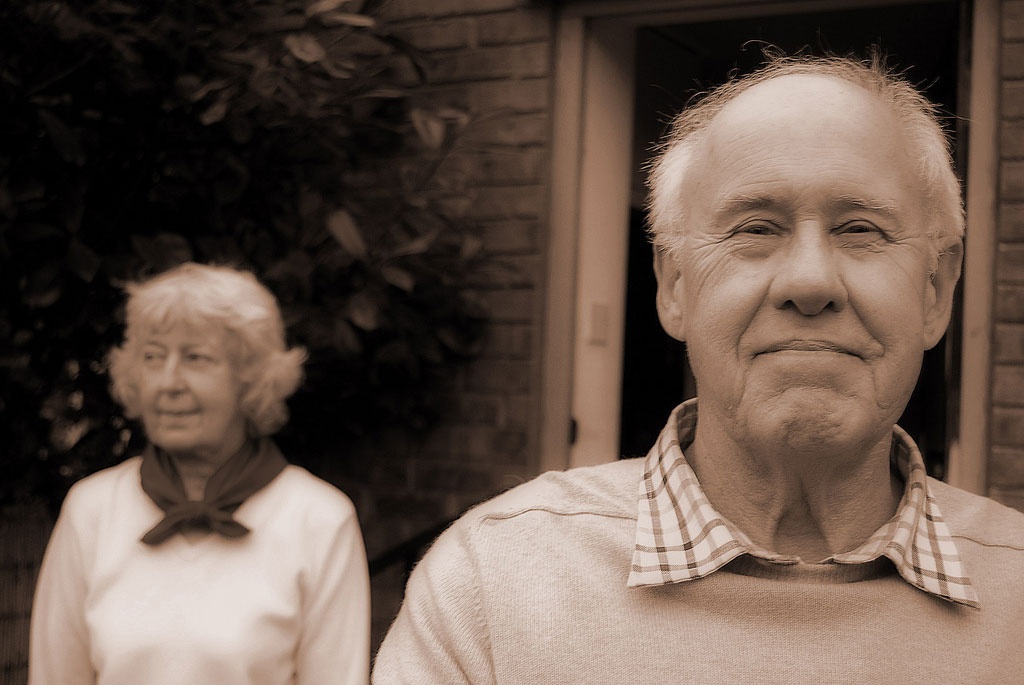 Photo credit: Sam Fox Photography via VisualHunt / CC BY-SA
What Facilities Accept Long-Term Care Insurance?
This is perhaps the most difficult question to answer. Similar to funeral and burial considerations, costs vary by provider and by state. In considering purchasing long-term care insurance, families should consider creating a list of ten facilities to provide care. As the family visits each facility, the family should take notes on what insurances are accepted, what services the insurance would cover, any recommendations the facility has, and whether the facility is a good "fit" for their loved one. Additionally, the family should inquire of the per diem rate of care, as many long-term care policies do not kick in until the insured has remained in the facility for a set number of days. By taking all of this into consideration, the family should be able to not only narrow down the list of facilities they are comfortable with, but also narrow down the long-term care insurance companies they are willing to research.
Some insurance companies provide lists of state-wide facilities accepting certain insurances. For example, United Policyholders in California was able to create a database of insurance resources, costs, and programs available to citizens in that state. The AARP's previously mentioned resources also allow consumers to comparison shop and obtain information about accepted policies prior to visiting the assisted living or nursing home facility.
What Are The Costs of Long-Term Care Insurance?
As with the previous section, the answer to this question is a very vague, "it depends." Premium prices are dependent on the person's age at the time of purchase, overall health, and the type of coverage requested. Costs vary by insurance company and by age at the time of purchase. In 2008, the average annual cost of long-term care insurance for a forty-year old was $2,050 and $3,109 for a sixty-year old. See, AARP "Planning for Long-Term Care: Your Resource Guide" 2010. Compared to the aforementioned $45,000 annual costs, $2,050 and even $3,109 do not seem like lousy investments.
Shopping for long-term care insurance is very similar to shopping for other types of insurance in that it pays to shop around for the best rate and the best comprehensive policy. As with car insurance, a family should not be surprised if a bare-bones policy covers the bare minimum of the loved one's expenses and the family has to dip into savings yet again. Likewise, a more comprehensive policy may have a higher annual premium, but may cover ninety percent of the loved one's care. Each insurance agent or broker should be able to answer these types of questions for the family prior to purchasing any policy.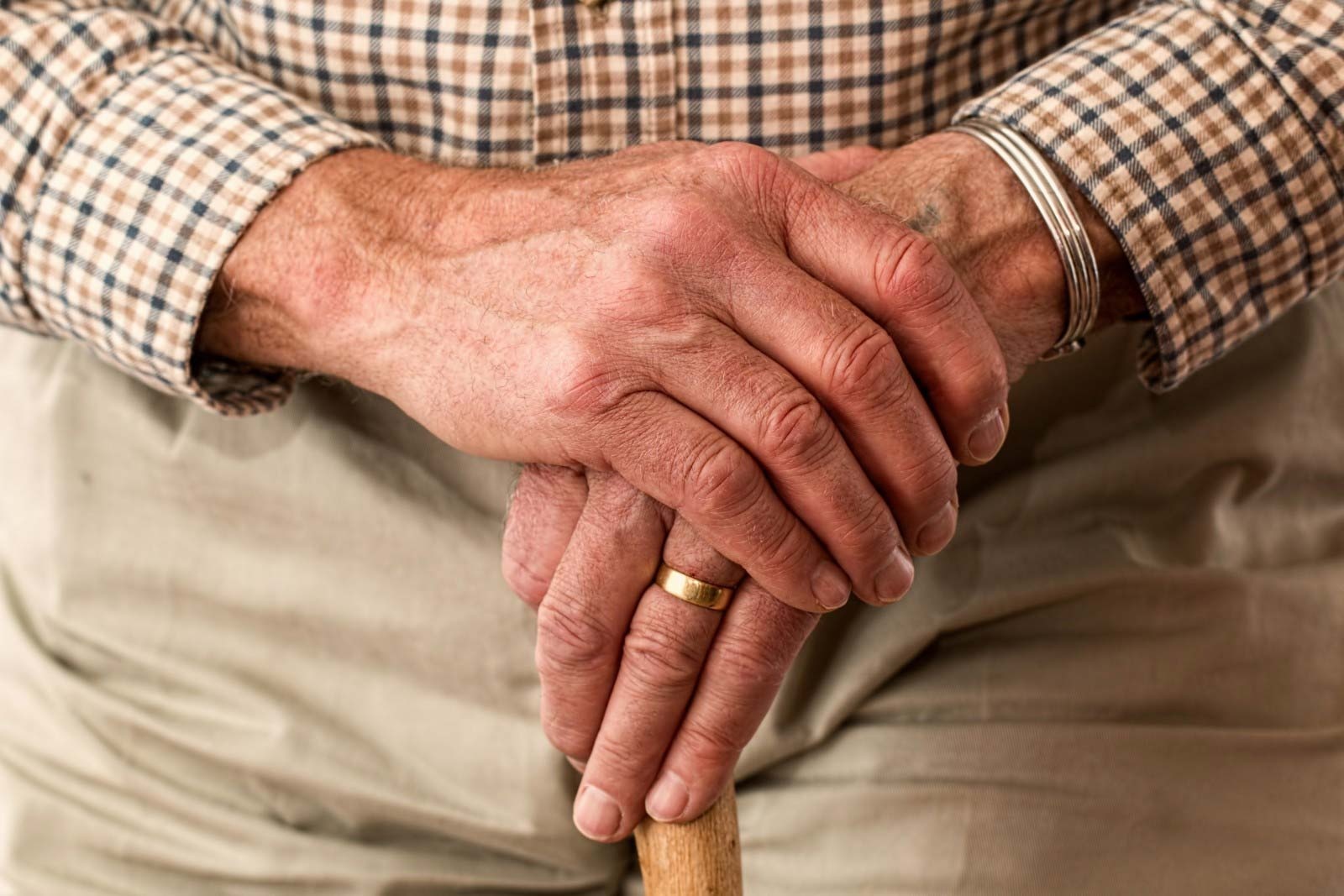 What Are Some General Concerns Facing Those Without Long-Term Care Insurance?
In addition to the financial pains and sticker shock arising from enrolling a loved one into long-term care, many families are finding themselves with even graver concerns than how to pay for the nursing home. See, Thomas Day, "Guide to Long-Term Care Planning" National Care Planning Council. Many times, enrolling a loved one into a nursing home or assisted living facility requires a change in primary-care physicians, specialists, or even medications. These adjustments can be difficult on anyone, but especially hard for those who have spent decades cultivating their relationships with their doctors and care providers. Additionally, without the loved one's trusted doctor on speed dial, a change in medication might create issues of side-effects, ineffectiveness of other medications, or even hospitalization. By having that years-long relationship with a primary care physician, perhaps some of the medication issues could have been avoided.
With limited resources to fund a long-term care plan for a loved one, families often find themselves choosing between a nursing home they do not mind and a nursing home that is just ok. By choosing the right long-term care insurance, families can find the appropriate facility that is the right "fit" for their loved one.
Consider Verna again. Verna prided herself on cooking a home-cooked meal when she was healthier. She also valued privacy and regular religious influences and teaching. In researching facilities for Verna, her family focused on the availability and taste of the food provided and what religious services were offered to residents. It was easy for the family to eliminate several choices and decide on the one that offered Verna privacy, religious instruction, and delicious home-cooked meals. Had Verna's resources been more limited, she may have had to sacrifice privacy for better-tasting food or religious services. Her long-term care insurance provided another way for the family to rest easy knowing the nursing home was taking excellent care of her physical and spiritual well-being.
Questions to Ask
What level of care is necessary for my loved one's diagnosis?
What are some personal preferences that my loved one has?
What are some preferences I have regarding my loved one's care?
What are ten facilities in my local area that I would like to research to provide long-term care for my loved one?
Of these facilities, what are the costs of each?
Of these facilities, what insurances are accepted by each?
How are we going to pay for the care of this facility?
Does my loved one qualify for Medicaid or VA benefits?
How are we going to pay for long-term care insurance?
Is it a better financial strategy to pay for long-term care insurance now or wait until later?
Are there any special occurrences that need to happen before the long-term care insurance begins providing benefits?
What will provide the greatest sense of comfort to my family and my loved one?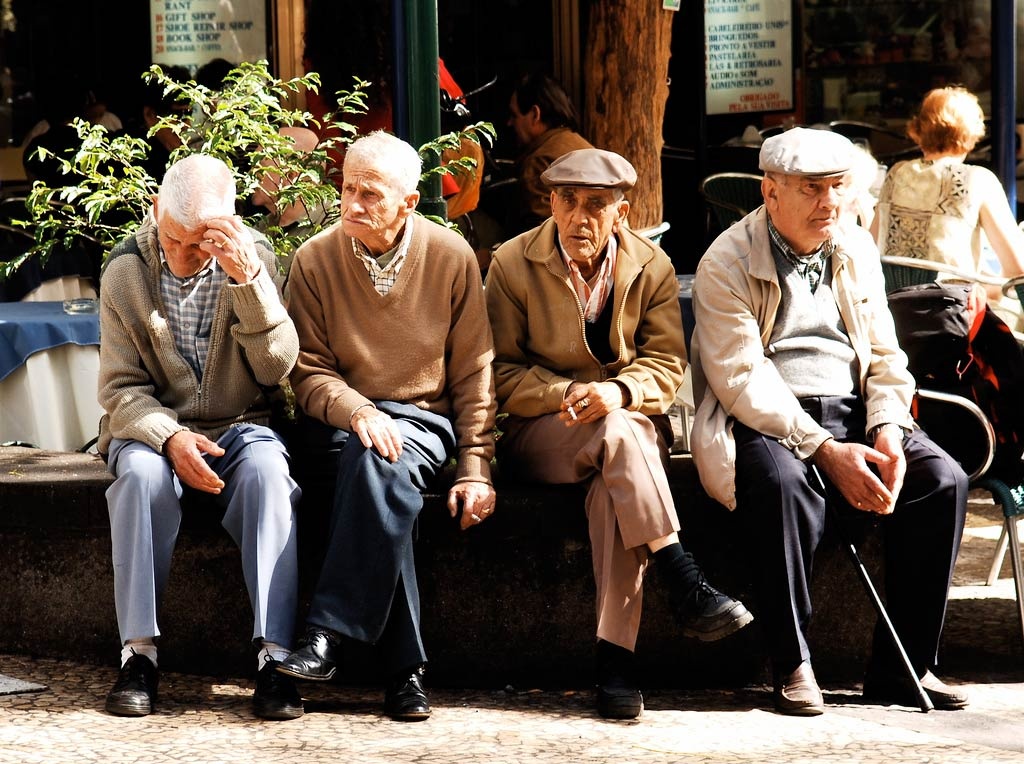 Photo credit: pedrosimoes7 via VisualHunt.com / CC BY
At Parting, our goal is to make sure families have resources at their fingertips to make the best possible decision to honor their loved one and their loved one's memory. This article is intended to make one more aspect of aging slightly easier for all involved. By utilizing the resources listed here and gathering lists of considerations, perhaps families can find peace well before the end of a loved one's life. Often, it is this peace of mind that allows for even more and better memories to be made while there is still time.
Featured photo credit: Full Coverage Insurance